Edwardian Sofa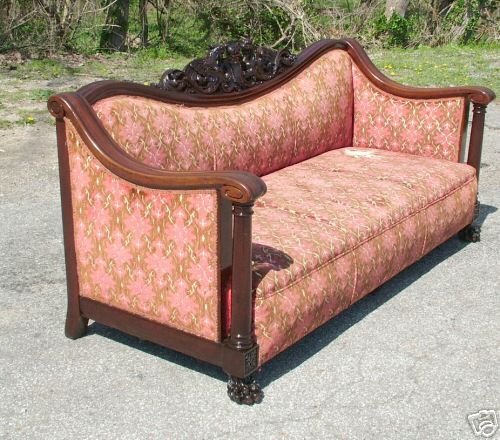 I get a lot of my inspirations from looking at old furniture on eBay. I recently came across this sofa. It was in need of some TLC, but I liked the style and the color. I decided to try and duplicated it.
The first step was to simplify it into parts and shapes. I also eliminated a few pieces for simplicity's sake. I DO like the carved griffins on the top of the piece, but I don't feel my clay skills are up to recreating them. It is, however, something I could possibly add in the future.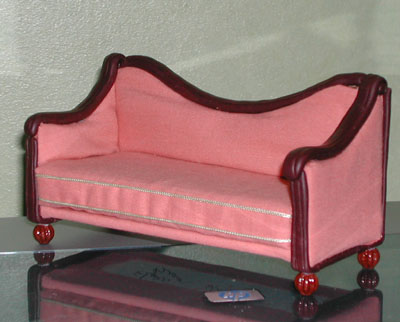 And here is MY copy! I chose the fabric because it matched perfectly with the wallpaper I found. The whole thing was made with items I already had. The wood trim is made from FIMO, and the feet are metallic beads that were painted. The sofa is made from posterboard, foamcore, quilt batting and a piece of soft styrofoam that once served as packing material. Bunka trims out the front of the cushion.

---
Books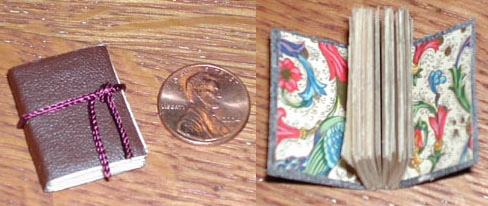 After seeing some beautiful examples of leather books online, I decided to try making my own. Once again, I made these books with things I had on hand. In the case of the first book, an old purse, some parchment paper, and the lining of an envelope I had been saving for years.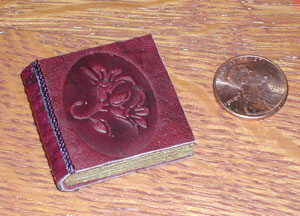 This book was made from an old wallet. The embossing on it was absolutely PERFECT for the book's cover. The binding of the book is ridged - already done on the folding flap of the wallet. (It's a bit hard to see in the photo.) The pages are made from balsa wood, scored to look like pages and painted gold. I love how it turned out!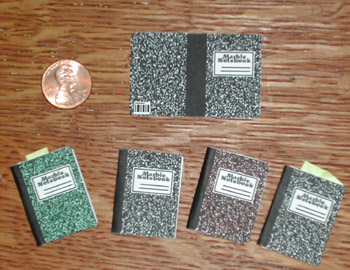 I started out trying to make these some time ago, but wasn't satisfied with the cardstock. The second time around, I tried something even heavier - Bristol Board. Worked like a charm, although I had to cut down the board to fit into my printer. I created the cover myself. If you'd like to try making your own miniature composition books, I've uploaded a bitmap file. Make sure the image measures 137 px by 89 px, or .086 inches by .056 inches high.
---
Beads!

There's so many things you can do with beads! Use your imagination and see what you can create. I go to craft and bead shops sometimes and just stand and LOOK at items. "What does this look like? What else could it be?" It's a great creative exercise.
---
Modern Cameras
I was rather disappointed with the lack of modern miniatures available. I finally broke down and attempted to make the things I wanted and could never find. Below are two versions of digital cameras, and a modern digital camcorder. They still need a bit of work, I think, and I plan to keep trying - at least until someone starts making and selling them!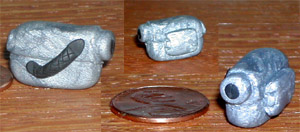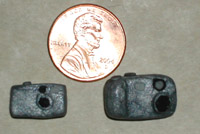 ---
Sake Flask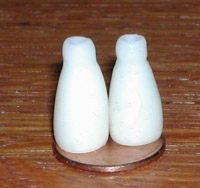 An accessory for my archeologist's study. Attempt number one! It needs to be painted.
---
Canopic Jars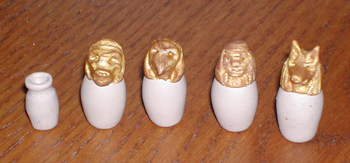 A baboon, a falcon, a human, and a jackal. No entrails, sorry. I still need to work out hieroglyphs yet, but I like how they turned out otherwise. The little jar on the left is just a random little jar. I had a tiny bit of clay left over.
---
Katana

A Japanese sword. Still experimenting and having issues getting a realistic looking blade. While the blade LOOKS ok, the clay took on a rubbery effect and the sword bends and twists almost like a twist-tie. Experimentation continues.