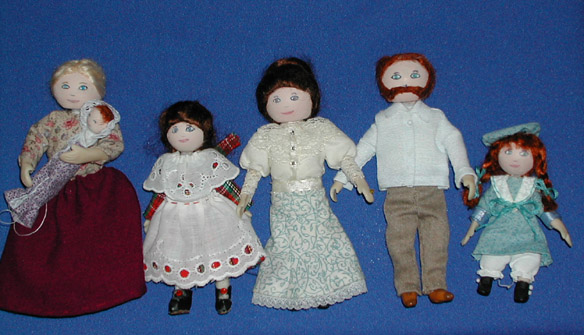 This is the Holsinger family, who has lived in the Knupp House since 1992.
I was about twelve when I made these dolls following instructions from Venus and Martin Dodge's book about miniatures. A few years later, armed with a brand new copy of Doll's House Dolls by Sue Atkinson, I redressed them and gave them hands and feet.
I've become a little suspicious of this family lately. My dolls are all over the place - but they're the only ones in this dollhouse. When I do put other dolls in there, they don't stay very long. Just what is going on, anyway?
---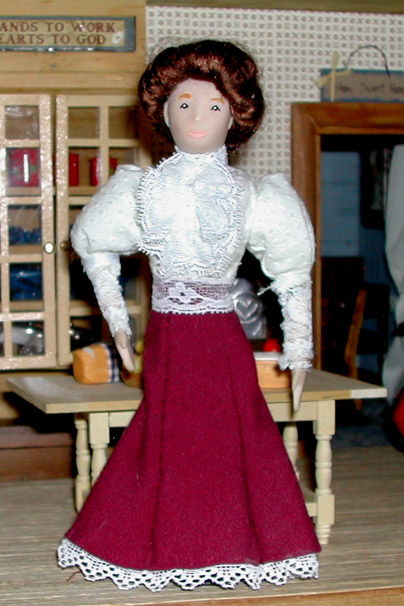 This is the reason I redressed my old dolls instead of making new ones. I started out making new ones! She is hand sculpted, hand sewn and dressed. She's also over six inches tall. Too big for the house, she's become a 'floater' and moves from one shelf to another. Still, I learned quite a bit from making her. 1, keep a careful check on their size. One indicater is that if you have to enlarge the clothing patterns, she's too big! 2. Hands are hard to sculpt. 3. Sewing works. I didn't even THINK about using glue until much later. 4. FIMO isn't so bad. Learn how to look at what you're trying to sculpt, though.
---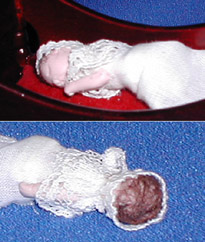 Another attempt at sculpting in FIMO. I'm getting better at it, anyway! I love the way the hair turned out - just a light amount of viscose. Babies are hard to dress in this size, though. I also had a hard time with the pose. FIMO just doesn't flop like babies do.
I suggest for future dolls - have a pose in mind. If they're standing, that's great, but if they're sitting or lying down - what are they lying or sitting on? Have that on hand and pose the doll to fit that item. It'll give a much more realistic touch.
---