---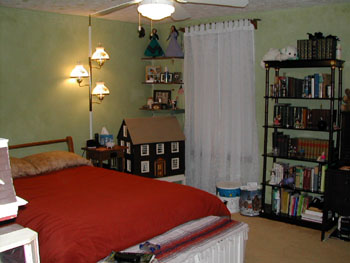 When my sister got married last December, I got her room. And mom got my room for a bigger sewing room. And we gained a guest room. That's a good six month's worth of packing, painting, purchasing and persperation!
The walls were ragged in three shades of green. It wasn't nearly as bad as I thought it would be, but it still took three weekends to finish! The trim and door were painted a deep shade of brown. Think chocolate. Darker than I would have liked, but it works.
In my previous room was 20 years worth of my stuff. The same bed, same dresser, and other pieces I'd had for several years. It was time for new!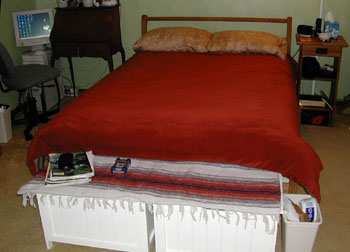 I opted for a double platform bed. The comforter was made by my mother, in an imitation of the $600 ones I saw at Scan Furniture. (for less than 1/6th the price!) The fabric is incredibly soft. It's my favorite part of the new room.
For the foot of the bed I found two low hampers that are great for storage. I also bought an Amish-made telephone stand to use as a night stand. (Yes, I know. the Amish don't HAVE telephones!)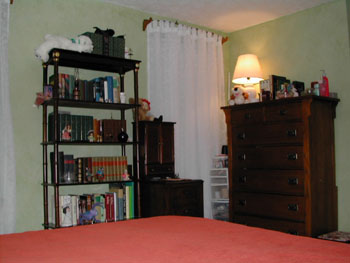 I brought from my old room my beautiful cherry bookcase. I also purchased a mission style chest of drawers to hold my clothes. It almost didn't make it to my room. We decided to pick it up at the store rather than arrange for delivery. (Hey! That's why we have a truck!) It baaarelly fit in the bed of the truck. then, we tried to get it out of the truck. It wasn't a pretty sight. (the guys at the store had loaded it in with the dresser drawers facing down.) We finally get it in the house. Could not figure out how to get the drawers out. This is a HEAVY, well-made piece of furniture. The thing sat in the kitchen for a week until we could muster up enough strongmen to hustle it up the stairs. Mom pondered all the utensils and linens she could store in it. Everyone suggested ways to get the drawers out. Nothing worked. We STILL haven't gotten the drawers out. At this point, we're afraid to try. What if we couldn't get them back in again?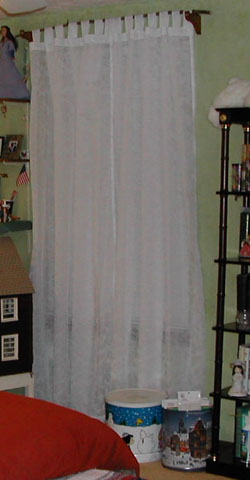 The curtains were also made by my mother. If you look closely, you can see that the curtain pole is a tree branch, and there is a leaf design imprinted in the fabric. (I'd like to point out that I no longer use the popcorn tins as magazine holders. Those are now stored in an antique tool box!)
Everything else came with me - the old dresser (now in the closet), the miniature houses, the lights, and the computer. (of course!) The antique desk is now finished and serving quite well as my desk. I still have to find things to hang on the wall, but for now, I'm enjoying the incredible amount of s p a c e I now have!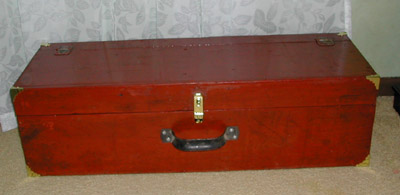 This toolbox replaces the metals tins I was using to store my magazines. It's stained the same color as my desk, but the coloring turned out much richer!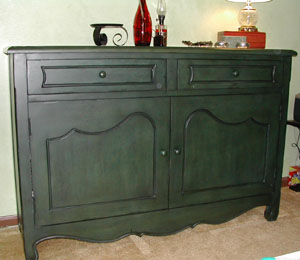 &nbsp
9/5/05 Update - I removed the DVD cabinet and the tv stand and replaced them with this cabinet. It was just starting to feel too cluttered. Too many pieces of furniture can sometimes be a bad thing. The cabinet holds a lot! It was a new piece found at Treasures of Time in Sterling, Va. The drawers are lined with a velvety fabric, and the doors open to two big, long shelves. It is not a mission style, but it seems to go well with the rest of the room.